This is not every "redneck dog name",but:
According to Jeff Foxworthy,
"You might be a redneck if your dogs name is Miller Light".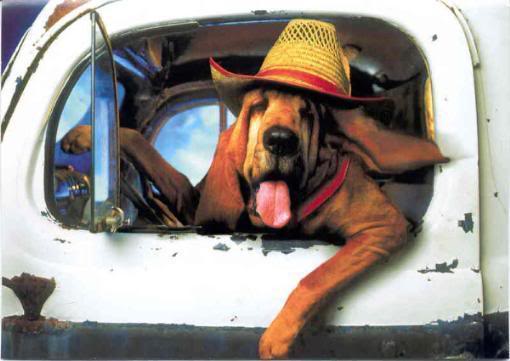 Or your dog has one of these redneck dog names. Nothing wrong with that though. But, you might want to be careful if you use a couple of these. Depending on where you live, you might call the dog and have a neighbor kid show up.
I'm sure there are more redneck dog names out there.  If you have one you like, please leave it in a comment below.
 Redneck Dog Names
| | | | | |
| --- | --- | --- | --- | --- |
| Achoo | Camper | Gator | Monster | Sasparilla |
| Advil | Casket | Gittem | Moonshine | Savage |
| Ammo | Chewy | Goober | Nightmare | Schitzo |
| Annie | Chomper | Grits | Noogie | Shadow |
| Airhead | Cooter | Grits | Nugget | Shootem |
| Attack | Copper | Grizzly | Otis | Shredder |
| Bandaid | Crackhead | Hacker | Outlaw | Sickem |
| Beast | Crapper | Hammer | Ozzie | Skeeter |
| BettyLou | Cruncher | Harley | Panic | Slobber |
| Bigfoot | Crusher | Hillbilly | Paxil | Smasher |
| BillyBob | Daisy | Hippie | Paycheck | Stalker |
| Blizzard | Dawg | Hobo | Pecker | Stinky |
| BobbiJo | Digger | Homer | PeggySue | Tackle |
| Bocephus | Dobber | Hooch | Perp | Tagalong |
| Bogeyman | Doodle | Hummer | Pickemup | Tater |
| Bones | Doogle | Hyde | Plunger | Tattoo |
| Booger | Doozy | Itchy | Poison | Thief |
| Boozer | Downer | Jackpot | Pokey | Toad |
| Bouncer | Dumpster | Jaws | Possum | Tooter |
| Brew | Eggo | Juice | Psycho | Trapper |
| Buckshot | Eightball | Junkie | Rage | Trigger |
| Buddy | EllieMay | Kibbles | Raid | Turd |
| BudLight | EmmyLou | Klepto | Raylene | Twinkie |
| Budweiser | Fang | Kritter | Razor | Twister |
| Bugger | Fire | Lazy Bum | Redneck | Whacko |
| Bumper | Flea | Lulu | Remington | Whimpy |
| Burrito | Fleabag | Lunatic | Ripper | Whoopass |
| Butch | Flush | Maggie | Roach | Woof |
| Butcher | Freeway | Maniac | Roadkill | Zilch |
| Buzz | Frisky | Misery | Roscoe | |